JIM OLSON, OLSON GUITARS & JIM COLE
Jim Cole has long been considered a favorite of many, the least not being that of luthier, Jim Olson of Olson Guitars. Olson's appreciation of Jim Cole's music dates back to the time well before he became a player of Olson Guitars.
"Jim Cole has a singing, playing, and writing style that immediately evokes comparisons with James Taylor. But Cole's music more explicitly pays tribute to Cole's Christian spirituality in its lyrical content. Any fan of good acoustic folk-pop will appreciate his work, but listeners who are additionally fan of CCM (Contemporary Christian Music) will likely find his style irresistible."
- James Olson Guitars web site

OLSON GUITARS & JIM COLE
On his recordings and on stage, Jim uses two of Olson's SJ model. These instruments are prominently featured throughout the "Leap of Faith" and "Live in Cincinnati" projects, not only in the music but also on the cover artwork. The sound of Jim's cedar-top Olson is featured on the intro to his version of the beloved hymn, "Be Thou My Vision" on "Leap of Faith."


"Jim Olson's guitars are the finest guitars I've ever played! You can hear the love and care he puts into every instrument."
-Jim Cole
---
BRUCE PETROS, PETROS GUITARS & JIM COLE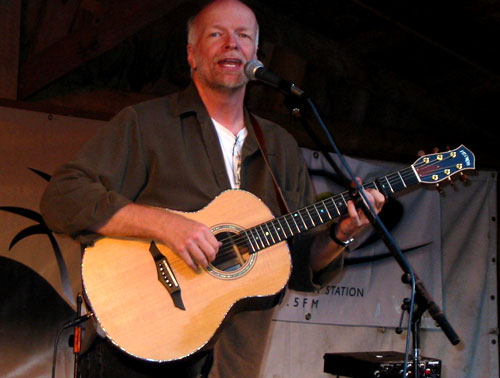 I stumbled onto Bruce Petros and his wonderful guitars quite by accident. I was doing a series of concerts in the Green Bay area of Wisconsin. On this particular night, I was in Appleton attending a conference at which I would be performing the following evening. To my surprise, I was asked to perform a song that night. As I was explaining that all of my gear was back at the hotel, a musician also attending the conference handed me a guitar. It was a Petros Grand Concert model. Knowing how guitars can embarrass musicians, especially when you're not acquainted with the instrument, I reluctantly agreed.
What I discovered is that Bruce's guitars are very gracious. It not only covered my mistakes, but made me sound much better that night than I really was. I am very particular about the instruments that I play. The tonal qualities of Bruce's guitars are incredibly rich and the playability is exceptional. Additionally, his guitars are visually stunning. Check him out at www.petrosguitars.com.